About
I'm here to awaken the human spirit through cinema.
AVAILABLE FOR HIRE: Producer, director, and camera operator based out of Las Vegas.
AVAILABLE FOR RENT: Black Magic Pocket 4k, Ronin RS2 w/ Raven Eye and 3D Focus System.
SKILLS: Directing Actors • Script Development • Pitch Decks • Casting Talent • Story Branding • Camera Operating • DaVinci Resolve • Adobe Premiere • Adobe InDesign • Movie Magic Budgeting • Procuring Union Signatories • Film Permitting • Purchasing Insurance • Negotiating with Vendors • Wrangling Talent • Recruiting Crew Members • Processing Deal Memos and Timecards • Creating and Distributing Sides • Call Sheets • Organizing Production Folders
EXPERIENCE:
Videographer, CANNADELIC MIAMI 2022. Digital Featurette. Feb 2022.
Production Coordinator, WHERE ALL LIGHT TENDS TO GO. Feature Film. Oct – Dec 2021.
Event Staff, POLO FESTIVAL. Festival. Oct 2021.
Line Producer, AUDEZE SPEAKER. Commercial. Sep 2021.
Co-Producer, YESTERYEAR. Feature Film. Aug – Present.
Executive Producer, AS THEY MADE US. Feature Film. Jun 2021.
Executive Producer, PRIVATE PROPERTY. Feature Film. Apr 2021.
Director, THE DNCR KID. Commercial. Nov 2020.
Producer, DNCR14. Online Course. Nov 2020.
Producer, EMM SUMMER CAMPAIGN. Slate of Commercials. Aug – Sep 2020.
Producer, BLOOD LANDS. Short Film. Jan 2019 – Dec 2019.
Event Staff, LATAM CREATOR SUMMIT. Convention. Nov 2019.
Event Staff, VIDCON. Convention. Jul 2019.
Associate Producer, THE LONG NIGHT. Feature Film. Apr – Jun 2019.
Production Supervisor, THE SWING OF THINGS. Feature Film. Apr 2019.
APOC, ANONYMOUS KILLERS. Feature Film. Dec 2018.
Event Staff, 29ROOMS. Immersive Event Space. Dec 2018.
Event Staff, AMERICAN FILM MARKET. Convention. Oct – Nov 2018.
Production Office Coordinator, BONDED. Feature Film. Sep – Oct 2018.
Event Staff, LA TIMES IDEAS EXCHANGE FEAT. JOHN KERRY. Speaking Event. Sep 2018.
Camera Operator, TAI LOPEZ – KNOWLEDGE SOCIETY. Seminar Event. Aug 2018.
Event Staff, STAR WARS: VIII THE LAST JEDI WORLD PREMIERE. Film Premiere. Dec 2017.
Event Producer & Creative Director, GENIUSES GO LATE. Music Event. Jul 2017.
Event Producer, JUMPCUT MEETUP. Seminar Event. Nov 2016.
Content Producer, VIRAL ACADEMY. Online Course. 2016 – 2017.
Operations Manager. THE HUMAN EXPERIMENT. YouTube Channel. 2015 – 2016.
Camera Operator & Video Editor. SIMPLE PICKUP. YouTube Channel. 2015 – 2017.
Production Assistant. GRILL CRASHERS VOLUME 2 WITH DONALD FAISON. Digital Promo. Jun 2015.
Camera Operator. BULLETPROOF DIET BOOK LAUNCH. Private Event. Dec 2014.
Production Assistant. WRESTLING ISN'T WRESTLING. Digital Featurette. Dec 2014.
Production Coordinator. 8I DEMO WITH FOSTER THE PEOPLE. Proof of Concept Video. Dec 2014.
APOC. BANANA REPUBLIC PRESENTS THE RED DRESS. Commercial. Nov 2014.
Co-Producer. MCLAREN 650S SPIDER FOR ASKMEN.COM. Digital Promo. Aug 2014.
Production Assistant. DEAN. Feature Film. Aug 2014.
Co-Producer. THE CONCOCTION. Commercial. Jul 2014.
Program Coordinator. VALIANT AT SAN DIEGO COMIC-CON. Convention. Jul 2014.
Event Coordinator. VALIANT AT ARCLIGHT. Film Premiere. Jun 2014.
Producer. MINNESOTA MEDICAL MISSION OF MERCY. Digital Featurette. Mar 2014.
2nd AD. FACE OF EVIL. Feature Film. Aug 2012.
Producer & Co-Director. CHARLIE'S HAIR & SPA. Digital Promo. Feb 2010.
EDUCATION:
University of California, San Diego – B.A. Visual Arts – Film/Video Production Emphasis
GRADUATED 2012
A commercial advertising DNCR14, a course that teaches you how to dance in just 14 days. Starring Glitchie as the… View the Video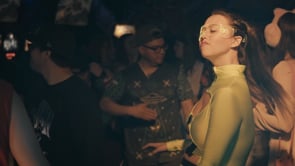 Are you a DJ or event organizer looking to have your night captured on video? If so, I'm happy to… View the Video
Roles
Primary Roles
Secondary Roles
Christopher directed the Cannadelic video for Magic Era. Our experience with him was 10/10. He was responsive and urgent all the way through prep. He showed up to shoot extremely prepared, and was adaptable to any curve balls on shoot day. He was always ready with great fresh ideas. He maintained his stamina, enthusiasm, and engagement all the way through post. We love this guy. We trust him with scripted narrative, interviews, b-roll, and any run and gun stuff. Thank you Christopher, can't wait to work with you again!
1 year ago