About
My name's John Serrano and I'm a professionally trained voice actor/voice over artist based in San Francisco, CA where I have a home recording booth. I'd love to work with you, in case you are in need of voice overs.
With 5 years of experience in Event Production at I.A.T.S.E. Local 16 and a Bachelor's in Communication (Media Production Major), I know exactly how to ensure productions run smoothly with clear communication and all tasks are executed to the highest professional standards. Recently, I've narrated nearly 100 YouTube videos, and have had character roles in several audio dramas, video games, and animations.
My voice has been described as deep, rich, and powerful. I've dedicated my life to producing the highest-quality professional standard voice overs and uniquely captivating character voices. I'm obsessed with delivering nothing but the best!
Thank you for your time! I look forward to working with you!
https://johnserranovoices.com/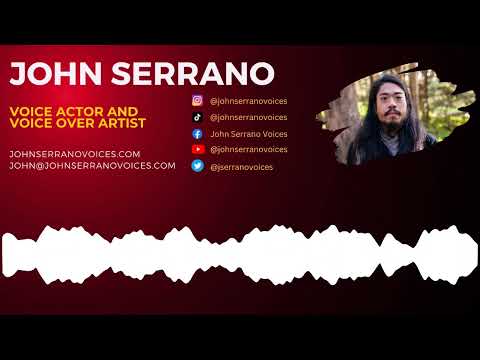 This is a sample of my voice acting in a character demo reel featuring my range of character voices. Example… View the Video
Roles
Primary Roles
Secondary Roles
There are no referrals for this profile at this time.