About
IATSE Union member, Editors Guild Local 700. TV Academy member.
I'm a TV/Film Editor, Motion Graphic Artist, Compositor, and Director of Photography in Los Angeles, CA. I've been freelancing TV editing for 11 years. Specialties include comedy editing, animation editing, music editing/selection, sizzle reels, motion graphics, VFX compositing, workflow design, post supervision, and sound design.
I've been passionate about TV & Film for as long as I can remember. When I was 13, I decided I wanted to make movies, so I started shooting 8mm tape and editing with 2 VCRs hooked up to each other. That year, in 1997, my parents got me a 4-channel RadioShack sound mixer as a Christmas gift. This sent me down a path of creative exploration that led me to the career that I love today. I learned Premiere and PhotoShop in 2001, and by 2005, I was learning After Effects & Avid and securing my first freelance clients in video production and post.
I'm fluent in Avid, Premiere, After Effects, Cinema 4D, PhotoShop, Illustrator, InDesign, Animate/Flash, and more.
I have 11 years experience editing for Comedy Central, VH1, Fox Sports, Apple TV+, Viacom, Cooking Channel, Variety, Disney XD, Comedy Central Digital, Netflix pilots, Fusion, Troma, sizzle reels, promos, commercials, music videos, and short & feature films.
I have 7 years experience as a Motion Graphics Artist – often designing & animating original GFX & VFX for the same shows I cut. This experience includes designing logos, pitch decks, infographics, photo editing & animation, and publications, often juggling multiple projects at once – across digital, print, and motion design.
I also write, direct, and produce and love all stages of video/film and multimedia production.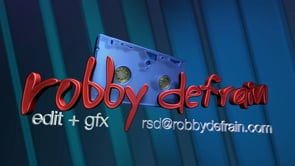 Television, film, video, and advertising work. Avid, After Effects, Premiere Pro, Cinema 4D, PhotoShop, Illustrator, Final Cut Pro. Comedy Central,… View the Video
There are no referrals for this profile at this time.