CALL SHEETS
Anyone who's worked on any kind of production has probably received a call sheet. It has the names and contact information of the producers, crew, and, at a minimum, the time and place you need to show up.
Call sheets can be as simple as an email, or as information-rich as some of the high-end online services where scene breakdowns and customization per recipient is built in.
We decided to dig in a little on the important but often overlooked features of call sheets to get to the bottom of what makes a great one.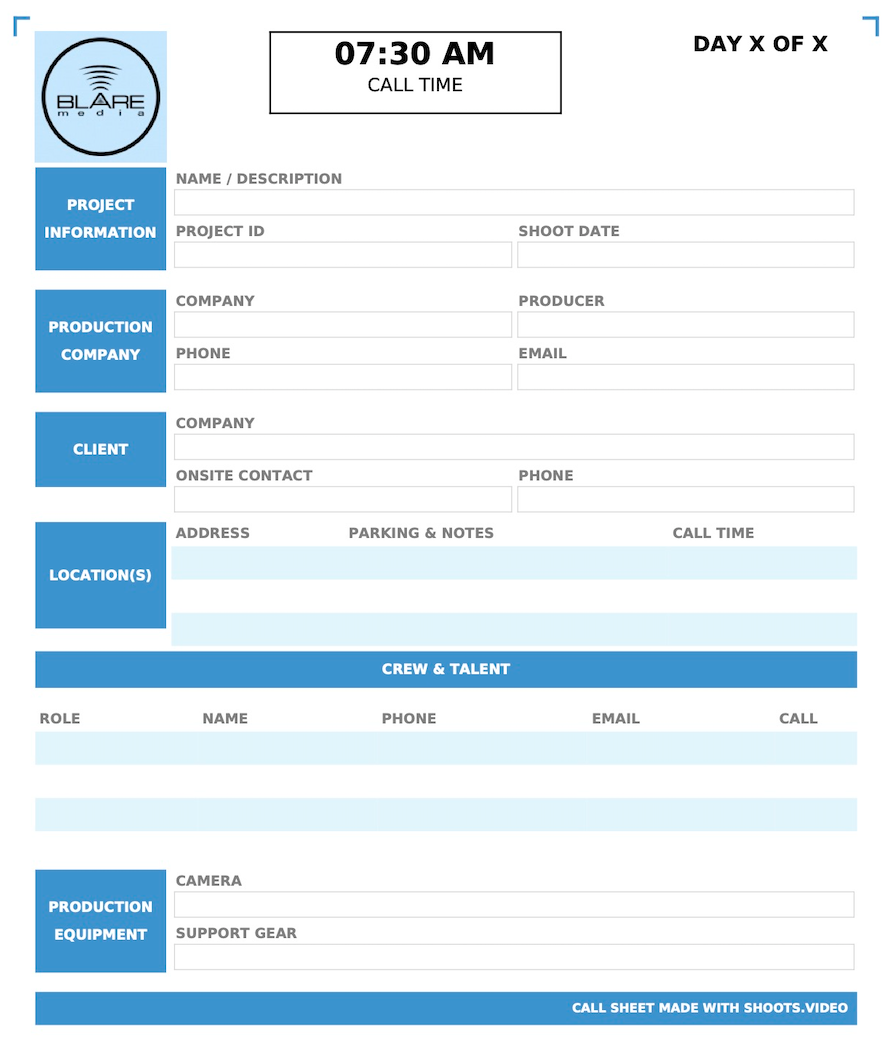 Login to use our Free Call Sheet.
WHY DO ONE FOR THIS LITTLE SHOOT?
You're thinking – my shoot is only four people, do we really need to make some document? Why can't I just text everyone? Well, the short answer is you can, but even for smaller crews the call sheet can still be an important document. For one, it provides a record that this thing even happened in the first place. That grip you ALWAYS hire is probably super busy on other jobs and at the end of the week they tally up all the call sheets, gather information from each, and submit invoices. Without your little document they might forget to invoice you, which can cause trouble down the line. Also, sometimes smaller crews will do a few different locations, so having those addresses listed can ensure everyone gets to the same place at the right times. Plus, if the crew plans ahead for moves, it will help them prepare for the day. And, of course when invoice time comes, having all the addresses listed makes for consistent mileage billing from all your vendors.
DO I NEED TO HAVE EVERYONE'S NAME AND NUMBER LISTED?
Yes and no. I've been on shoots with well-known actors, or big-name producers, and their private information is not always listed. There's often some PA or Extra trying to make it big who might reach out to them and make your production company look bad. Be careful what you list for top-of-the-line folks. Subscription service call sheet tools like Studio Binder offer contact information display settings – bottom line: use discretion!
Generally speaking, it is a great idea to include everyone's contact information below the line. For example, what if the DIT needs to get in touch with the Audio Operator to make sure they're receiving media from the Op, or worse, need to get it after the Audio Op has already left the building? By having everyone's information listed, you empower crews on the job to reach out directly to the appropriate people and you simultaneously remove any bottlenecks at the coordinator or producer role. Sometimes, especially at arrival to set, those folks have big fires to put out, and the Location Manager might be the best call instead to unlock a gate at a location.  And, let's face it, you might want to have contact info for that standout new colleague for next time, and they might want yours too, so it's a good networking and referral document for future jobs. In order to save time our free call sheets are setup so that when you start typing the name of each crew member (If they are a member of our site) their email address and phone number will auto-complete so that you don't need to track them down.
DO I NEED TO LIST A SCHEDULE AND IF SO, HOW DETAILED?
A general schedule at minimum is always a good idea whenever you can. It can give your DP or Gaffer valuable info on what to have ready first thing, and what to stage for later in the day. It also informs everyone about what kind of day to expect and reduces those questions at hour 8 if a 10 hour day is estimated.
I SENT MY CALL SHEET, NO ADDRESSEES BOUNCED BACK…DONE?
NO! One of the most important and easily overlooked tasks of anyone tasked with making a call sheet is MAKING SURE EVERYONE GOT THE CALL SHEET. You have to have a verification system. Make everyone reply back "got it" at least. That way there are no lame excuses when someone shows up late or forgets something important that was listed on the call sheet. Call sheet services will list "opened", "read", and even "bounced back" or "underliverable", which is a lifesaver if you have outdated contact information for someone. Ours is a free service so while it's not robust it does inform you of who has or has not opened the call sheet.
SHOULD I SEND TEXT MESSAGES?
YES. Some call sheet services offer the ability to send a SMS message, and that's a great idea. And on smaller shoots, start a group text right off the bat with first location address.
The bottom line is people are checking their email less and less these days, so communicating by text is a great idea. You don't need to include all the pertinent information in a text, just that person's call time, location address and link to the actual call sheet or a reminder for them to check their email for once! For that every-day-a-different-shoot set worker, having that text handy to just know the time and location at a minimum is handy, it lets them touch the address link on their smart phone and hopefully get Maps going in a jif, which gets them to set just a little late instead of a lot!
WHAT SERVICES ARE OUT THERE TO HELP ME WITH CALL SHEETS?
PAID
There are a handful of companies out there offering production-focused online tools you can subscribe to for overall production management. They offer call sheets, scheduling, script breakdowns, storyboard inclusion and more. Industry leader  studiobinder.com – offers great call sheets and helps you build a database of regularly used freelancers and repeating shoot locations. Other services like setheroapp.com , yamdu.com and videopipeline.io are nipping at Studio Binder's heels. Your production companies size, activities and budget will drive fit with one of those services.
FREE
A search for "free call sheets" will reveal thousands of results, most of which are legitimate downloadable call sheet templates. Production sites are happy to give them away in exchange for you visiting their site and learning more about their company. Sites like ours, shoots.video or even production music blogmasters at premiumbeat.com offer some great call sheet options.
BOTTOM LINE
ALWAYS make a call sheet of some kind, and lean-in to making them. Don't wait until the last minute the day before to do them. Start it first thing in the AM and add to it throughout the day as you do final pre. It will help you get organized and maybe even remind you about the hundreds of details that go into a successful production.
Login to use our free call sheets today.
Happy Shooting!