Thank you for your payment!
One of our production coordinators will be reaching out to you shortly.
Making a payment on our site is the first step to getting your project completed by one of our seasoned professionals. Here is what you can expect after entering your payment information and clicking the "pay" button: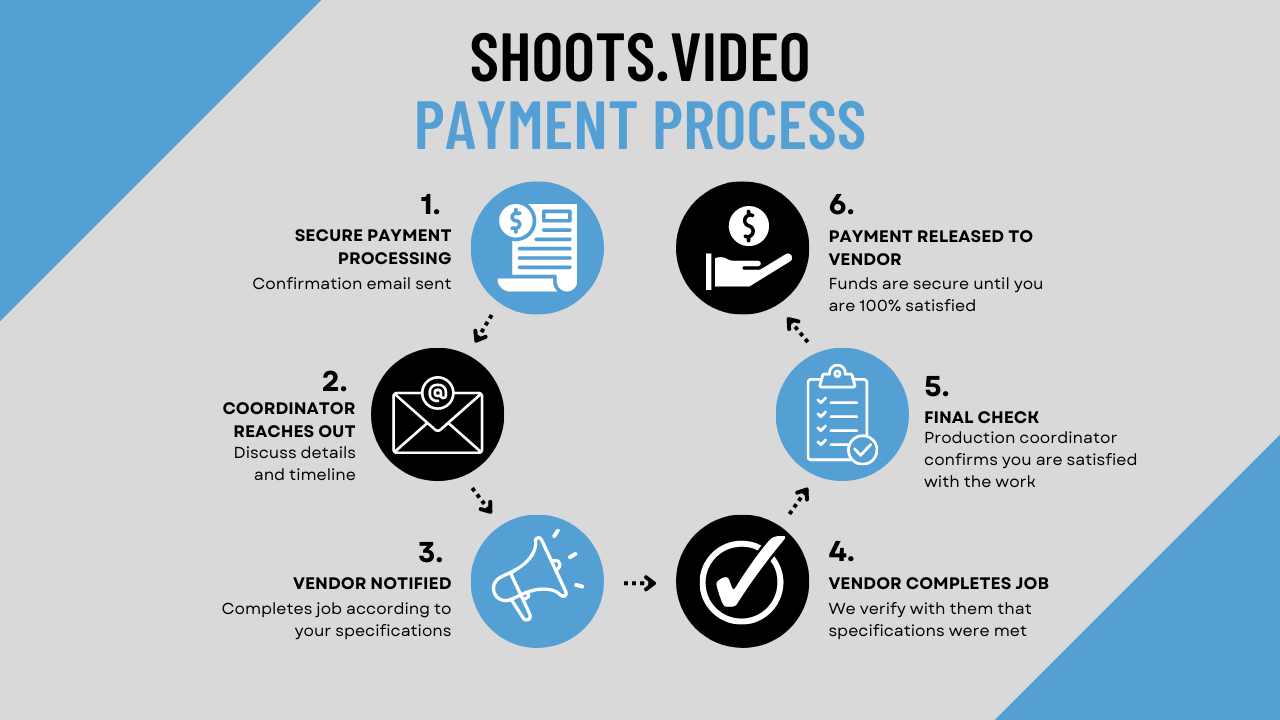 Secure Payment Processing – Your payment will be securely processed and you will receive a confirmation email with your order details. Rest assured that your information is safe.
Production Coordinator Reaches Out – Within 24 hours of receiving your payment, one of our production coordinators will reach out to introduce themselves and discuss next steps with you. They will confirm the timeline, scope of work, and any other specifics for your job.
Vendor Notified – We will notify the vendor that you have paid for their services. The vendor will then complete the job based on the agreed upon timeline and expectations.
Vendor Completes Job – Once the vendor completes the work, they will notify us that the job is finished. We will verify with them that everything has been completed according to plan.
Final Check – Our production coordinator will then reach back out to you to confirm that you are fully satisfied with the completed work.
Payment Released to Vendor – Upon your approval, we will release payment to the vendor. You can rest easy knowing your funds are secure until you are 100% happy with the final product.
We hope this overview clearly explains what happens behind the scenes after you complete your purchase on our site. Our system is designed to ensure you receive exceptional service and that your project is completed to your standards. If you have any other questions about payments, deliverables, timelines, or working with our vendors, please don't hesitate to reach out to us. Our team is always available to provide assistance and make sure you have a great experience using our platform. We look forward to helping you achieve your goals and bringing your vision to life!