About
IQVideo is a corporate video production company based in San Francisco, CA.
We are a full service corporate video production agency offering many different services: b2b videos, professional headshots, corporate event conference videos, media productions, film production, corporate videography, animation, product video, corporate business photography, educational training videos, explainer videos, motion graphics design, crowdfunding, kickstarter and startup videos, documentary, social ads videos, post production, customer testimonial videos, ad promo videos, video editing, career, recruitment, interview videos, TV ad commercials, industrial manufacturing video production, drone aerial videography, live event streaming, cinematography.
We are a rare combination of marketing agency, branding agency, advertising agency and video production. Our team is ready to help build your brand and advertise your product line.
IQvideo – San Francisco Video Production
150 Sutter St #52, San Francisco, CA 94104
(415) 549-1440
https://www.iqvideo.net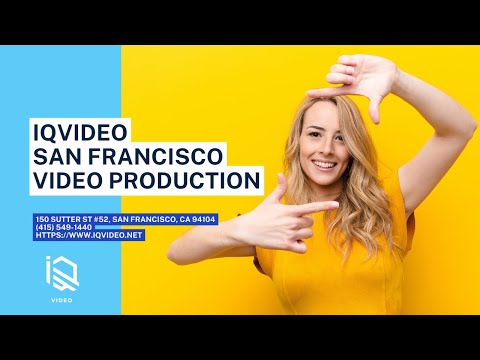 Different types of production require a different approach. We will be pleased to provide you with a rough estimate, but… View the Video
Roles
Primary Roles
Secondary Roles
Love the diversity of content! So well done folks.
11 months ago