Is There a San Francisco Film Industry? Production of Films in San Francisco
Is there a film industry in San Francisco? Absolutely!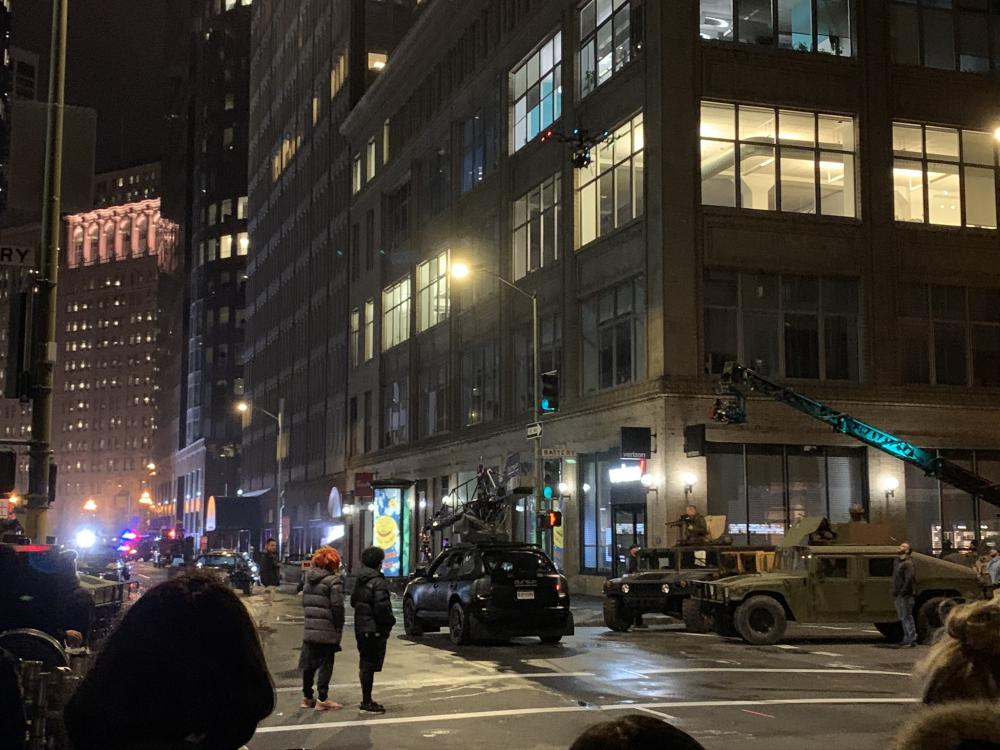 The US film industry is one of the highest grossing and most prolific film industries in the world. Although the US film industry is most commonly referred to as Hollywood, filmmaking hubs exist in several major cities across the country, not just Los Angeles. The country is teeming with world-renowned screenwriters, directors, actors, cinematographers, production studios, animators, and film festivals, and San Francisco has its fair share. San Francisco has been a backdrop in films as far back as the silent film era and is an ever-growing part of the industry. San Francisco is a welcoming place for filmmakers, offering expanding production resources and tax incentives and a vibrant and unique pool of talented filmmakers.
Financial incentives to film in San Francisco
Our Blare Media San Francisco Video Production Company is in the heart of a thriving commercial and theatrical market, and now, the city is looking to attract more local film productions. The San Francisco Office of Economic and Workforce Development houses the San Francisco Film Commission known as SF Film. The commission issues permits for any production filming for commercial or noncommercial use in San Francisco and provides useful services to the production. Since 2006, the commission has offered the Scene in San Francisco Rebate Program to refund up to $600,000 on fees paid to the city. The goal of the program is to bring more economic and employment opportunities to San Francisco residents. Filmmakers can receive the refund for their TV, film, web series, or documentary projects as long as several requirements are met, including shooting more than half of principal photography in San Francisco, as well as making an effort to hire locals.
To take a closer look at how the rebate program has impacted the city, check out the SF Film Commission's website. SF Film publishes reports annually on the city's filming statistics, rebate allocations, and outlook for the future of the San Francisco film industry. For example, since 2006, the city has rebated $6,389,500 to production projects. In return, these projects hired more than 15,581 local crew and actors, paid $24,330,208 in wages to local crew and actors, and spent $64,689,605 on local goods and services. The commission understands that offering incentives, talent, and infrastructure empowers San Francisco to become an even more competitive film industry market going forward.
Who are San Francisco's local filmmakers and film production companies?
Feature Films
The Last Black Man in San Francisco is a 2019 award-winning drama about a pair of San Francisco friends and their quest to reclaim a Victorian house in the city's Fillmore District. The screenplay was written by San Francisco natives and childhood friends Joe Talbot and Jimmie Fails and is based on their experiences growing up in San Francisco. The film was shot entirely on location in San Francisco and among its cast included many native San Franciscans. For example, the well-known Danny Glover was born and raised in San Francisco and began his acting training in the city's American Conservatory Theater. The film also cast local musicians, like rapper Willie Hen, performer Jamal Truelove, and Eric Reed Boucher (known as Jello Biafra) the former lead singer/songwriter for the San Francisco punk rock band Dead Kennedys.
Although Joe and Jimmie came up with the film's idea as teenagers, it took many years before they had the resources to produce it. In 2015, after launching a Kickstarter campaign that raised $75,000 and attracted the attention of the larger film industry, the film took life. The film was directed and produced by Joe in his directorial debut and starred Jimmie in the lead role. The two have since founded their production company, Longshot Features, and now join the ranks of San Francisco's talented filmmakers.
Documentary Films
Telling Pictures is a San Francisco based production company founded in 1987 by Rob Epstein and Jeffrey Friedman who are best known for their award winning documentaries. In 1984, Rob directed The Times of Harvey Milk which documents the political career of Harvey Milk, San Francisco's first openly gay supervisor. In 1989, after establishing Telling Pictures, Rob and Jeffrey directed and produced the Academy Award winning documentary about the AIDS epidemic Common Threads: Stories from the Quilt. In the last decade, the duo have expanded into feature films, like Lovelace, which tells the story of Linda Lovelace, the first porn superstar and her experience filming Deep Throat.
Visual Effects
Since 2005, San Francisco's The Letterman Digital Arts Center has been home to Industrial Light & Magic (ILM), the leading visual effects studio in the world. ILM is part of Lucasfilms which George Lucas founded in 1975 when he began production on the original Star Wars film. In 2012, ILM and its parent company, Lucasfilms, were acquired by Disney.
ILM has been a leader in visual effects innovation for decades and is pioneering virtual- and augmented-reality technology. For example, StageCraft is an on-set virtual production visual effects technology that uses high-definition LED video walls to generate virtual scenes. This technology was developed for the Disney+ series The Mandalorian.
For its contributions across the industry, ILM has received 5 Academy Awards for Best Visual Effects and 31 Academy Awards for Scientific and Technical Achievement. The studio does not hesitate to attribute its success to the highly talented and innovative minds of San Francisco.
SFFILM Festival
The San Francisco International Film Festival (SFIFF) is the longest-running film festival in the Americas. It was founded in 1957 by Irving Levin with the goal of exposing locals to film appreciation and film as an art form, as well as putting San Francisco on the international film map. The festival runs for two weeks each spring and is proud to showcase films that can inspire social change. In its history, SFIFF has shown 130 films from 56 countries, including 56% from female or non-binary directors and 52% from BIPOC filmmakers.
What's been filmed in SF?
For a list of recent productions filmed in San Francisco, check the SF Film Commission's website. There you can find a list of movies and tv shows filmed in San Francisco as well as the city's most popular filming locations. For the devoted San Francisco film history buff, check out Data SF's free dataset of movies shot in San Francisco starting from 1924. The dataset includes film titles, locations, fun facts, directors, writers, actors, and studios.
Also, take a closer look at the following films to recognize much of San Francisco:
San Francisco (1936) – This musical-drama directed by W. S. Van Dyke, starring Clark Gable, Jeanette MacDonald and Spencer Tracy is based on the April 18, 1906 San Francisco earthquake.
Alfred Hitcock filmed 3 movies in San Francisco:

Shadow of a Doubt (1943)
Vertigo (1958)
The Birds (1963)
Bullitt (1968) – This neo-noir action thriller, starring Steve McQueen, was shot entirely on location in San Francisco.
Dirty Harry (1971) – Another neo-noir action thriller, starring Clint Eastwood, is based on the Zodiac Killer, a San Francisco Bay Area serial killer in the 1960s.
Marvel Cinematic Universe's blockbusters:

Ant-Man (2015)
Venom (2018)
Shang-Chi and the Legend of the Ten Rings (2021)

The Matrix Resurrections(2021) – The 4th installment of the Matrix franchise held its world premiere at the Castro Theater in San Francisco. The film's director Lana Wachowski chose to bring the production and premier to San Francisco because of her love of the city.
SF to Silicon Valley – Popular Filming Locations in the Bay Area
San Francisco, California, is home to a thriving film industry that reflects the region's rich history and culture. Nestled in the heart of the Bay Area, this industry draws upon the unique features of the area, such as the bustling street settings of Santa Cruz, the picturesque hills and lake views, and the stunning beach along the Pacific Ocean. Silicon Valley is a must-visit Bay attraction, and filmmakers can also take advantage of the many beautiful locations in El Dorado Park. From local filmmakers to Hollywood producers, the San Francisco film industry is an exciting and innovative community that provides endless opportunities for creativity.
Be a part of the industry – San Francisco film
Become a part of the San Francisco film industry as a tourist or a local! The next time you are in San Francisco, book a guided Movie Sights City tour. If you are a local, apply through the SF Film Commission to market your home or property as a filming location. Lastly, befriend San Francisco actors who can alert you the next time a casting call goes out for background and extra roles for films and television shows filming locally!
If you're looking to begin film production in San Francisco, research production companies thoroughly to find the best fit for your project. Whether you're a seasoned filmmaker or this is film number one, choosing the right film company is the key to making successful motion pictures.
If you're a business owner wanting to create advertising videos, look for production houses that are experienced in working with companies and their marketing goals. Large corporations will have different video needs than small companies with 1-10 employees. The right production company will provide the service you need to generate real results for your business and won't let any of your marketing goals slide.
Sources:
11 Best Places for Film Acting Outside of NYC and L.A. (https://www.backstage.com/magazine/article/great-film-markets-outside-nyc-la-9730/)
Film Locations in San Francisco (https://data.sfgov.org/Culture-and-Recreation/Film-Locations-in-San-Francisco/yitu-d5am)
Lana Wachowski Delivers Heartfelt Speech About Power of Cinema at 'Matrix Resurrections' Premiere: "Movie Theaters Have Sustained Me" (https://www.hollywoodreporter.com/movies/movie-news/matrix-resurrections-premiere-keanu-reeves-lana-wachowski-reboot-1235065121/)
SF Film Commission (https://sf.gov/public-body/film-commission)
SF Film (https://sffilm.org/2022-about-the-festival/)
Telling Pictures (https://www.tellingpictures.com/)
The Last Black Man in San Francisco  (https://www.hollywoodreporter.com/movies/movie-news/last-black-man-san-francisco-filmmakers-reflect-making-first-feature-1265332/)