San Francisco Affordable Video Production – Production Company Services
BLARE Media creates professional-grade videos right here in San Francisco that maintain exceptional quality without exceeding your budget.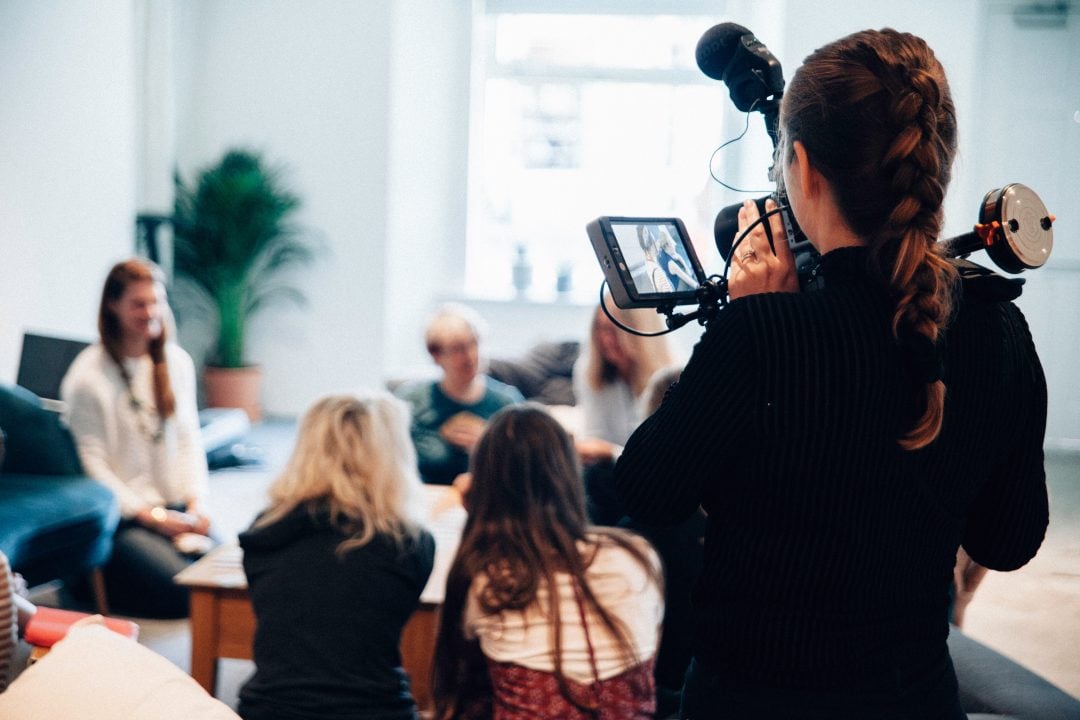 Looking to produce impressive video content without breaking the bank? Look no further than BLARE Media, a leading video production company based in San Francisco. We specialize in providing cost-effective and comprehensive video production services for a wide range of needs, including commercial videos, corporate videos, films, and more. Our top priority is establishing strong and lasting connections with our clients, ensuring that we work closely together throughout the entire production process, from initial planning to final delivery. With our streamlined video studio workflow and extensive expertise in the field, BLARE Media is able to create professional-grade videos right here in San Francisco, maintaining exceptional quality while staying within your budget.
Affordable Video Production
In today's modern age, video has become a powerful marketing tool that can propel businesses forward. However, not everyone has a large budget to create extravagant advertisements or corporate videos akin to Super Bowl commercials. This is where BLARE Media San Francisco steps in. We believe that everyone has a unique story to tell and a message to convey through videos. Our team of experienced video professionals in San Francisco is dedicated to delivering high-quality videos that meet both your requirements and your budget. Our production services cater to both individuals and businesses. From initial concept development to the final stages of post-production, we collaborate closely with you throughout the entire video production process, ensuring that your message is effectively communicated through the captivating medium of video. We are driven by our unwavering passion and firmly believe that affordable video production in the Bay Area should be accessible to all companies in San Francisco.
How Much Does it Cost to Produce a Video?
Video production plays a pivotal role for companies, individuals, and content creators in San Francisco who seek to captivate their target audience effectively. However, concerns often arise regarding the expenses involved in production. The cost of creating a video depends on several factors, including the length of the video, shooting location, equipment used, crew size, and the chosen production company. For a simple video in San Francisco that involves a single camera and basic editing, prices typically start at $3,000 to $5,000, depending on the production company. On the other hand, a high-quality video that requires advanced equipment and extensive editing may cost $10,000 or more from a professional company. It is important to communicate your objectives and budget with the production company you choose, ensuring they can meet your video requirements. If your budget is not feasible for your desired video, it may be worth exploring other companies that can provide video services at a more affordable cost.
How Much Does Video Production Cost Per Hour?
Video production is an essential element in the success of any business or project in San Francisco, as it enables effective communication and engages audiences effectively. Consequently, video has become a vital component of modern marketing strategies. However, many clients often inquire about the hourly cost of production companies or video production crews in San Francisco. Providing a precise answer to this question is challenging due to various factors that influence the cost, such as the type of video, equipment quality, and the expertise of the videography team and production company involved. Nevertheless, it is crucial to view video production as an investment that can yield significant outcomes for companies. Therefore, it is essential to collaborate with a reputable San Francisco production team that offers affordable services, tailored to your specific requirements, without compromising on video quality.
Affordable Video Production Companies
BLARE Media is your trusted partner in San Francisco, offering high-quality video production services at affordable rates. Whether you're a corporate entity in need of a promotional video or an artist with a creative vision for a music video or documentary, we have you covered. Our experienced crew has successfully executed a wide range of video projects and is dedicated to delivering exceptional results. We harness the power of cutting-edge technology and video design techniques to ensure a polished and professional final product for individuals and companies alike. We understand that video production can feel overwhelming, but with BLARE Media, you can relax knowing that your vision is in capable hands. Let us bring your unique vision to life with our expertise and unwavering passion.
How Much Does it Cost to Produce a YouTube Video?
The popularity of YouTube as a platform for brand-building, knowledge-sharing, and entertainment has soared. However, the costs associated with producing high-quality videos are often overlooked. The expense of creating a YouTube video varies widely, depending on the desired production quality and equipment selection. When collaborating with production agencies, it is advisable to obtain a production estimate from a video producer. Some YouTubers may opt for a basic setup involving a smartphone and an affordable tripod, while others may invest in top-of-the-line video cameras, microphones, and lighting setups. On average, the cost of producing a YouTube video in San Francisco can range from a few hundred dollars (for beginners) to several thousand dollars. Despite the initial investment, creating quality video content on YouTube and other social media platforms can generate substantial returns for individuals and companies in San Francisco who are dedicated to refining their skills and investing time and effort.
How Do You Film a Video Project on a Budget?
Look no further if you're eager to bring your video project to life while keeping a close eye on your budget. BLARE Media is here to help! Our team of skilled video professionals is dedicated to working with you to develop a realistic plan that stays within your financial limits. We'll be with you every step of the way, from pre-production to post-production, offering valuable guidance and unwavering support. Don't let financial constraints hinder the realization of your creative vision. Choose BLARE Media San Francisco as your partner, and together, we'll turn your film project into a tangible reality.
Equipment
At BLARE Media San Francisco, we understand the importance of using top-of-the-line equipment to capture exceptional footage for our valued clients. That's why we make significant investments in sourcing the finest gear available, ensuring that our clients receive unparalleled quality while still maintaining affordability. We firmly believe that every project deserves to be captured with the utmost attention to detail, which is why we spare no expense in acquiring cutting-edge equipment. Our team consists of seasoned experts who have worked with a wide range of video content. Whether you're looking to create a commercial, music video, or any other type of content, you can trust BLARE Media to deliver outstanding results.
Editing
While videography is important, the editing stage is equally crucial in determining the final outcome of a video. At BLARE Media San Francisco, we understand the value of having a highly skilled editing team. However, we also recognize the high costs typically associated with outsourcing editing services. To overcome this challenge, we have strategically built an in-house editing team comprised of talented professionals from San Francisco who are passionate about their craft and dedicated to bringing our clients' visions to life. By keeping the editing process in-house, we are able to offer our clients cost savings without compromising the exceptional quality they expect from us. With our dedicated editing team at the forefront, our clients can rest assured that their video projects are in the hands of capable experts in the Bay Area.
Affordable Commercial Video Production
In recent times, there has been a surge in the popularity of creating cost-effective commercial videos and product videos. Thanks to technological advancements and the widespread use of online platforms, companies of all sizes now have the opportunity to produce high-quality commercial videos without straining their budgets. Affordable commercial video production encompasses various elements, including scripting, filming, editing, and post-production, all customized to align with a company's financial limitations. By partnering with a commercial production company that offers reasonably priced equipment, skilled professionals, and streamlined workflows, businesses can create visually captivating commercial videos that effectively engage their target audience. This holds true for Bay Area startups, small companies, as well as well-established organizations. Affordable commercial video production presents an opportunity to enhance brand visibility, convey key messages, and foster customer engagement in a cost-conscious manner, ultimately providing a competitive advantage in San Francisco's dynamic market.
Commercial videos play a pivotal role in the growth and success of companies, serving as powerful tools to capture the attention of potential customers and promote their products or services. These videos enable companies to effectively communicate their unique selling propositions, highlight key features, and create memorable brand experiences. A compelling commercial has the ability to establish an emotional connection with the audience, build brand awareness, and drive consumer behavior. By strategically distributing commercial videos across various media platforms, companies can reach diverse demographics, maximize their exposure, and achieve a substantial return on investment. In today's fiercely competitive marketplace, a well-executed commercial sets a company apart from its competitors, leaving a lasting impression on consumers and contributing to long-term success.
Let's recap the affordable video production
When aiming to produce a video within a limited budget, several factors should be considered. The budget itself becomes a critical aspect, influenced by the video's purpose, duration, and desired equipment quality. To ensure cost-effectiveness, it is advisable to obtain production estimates from different video production companies, leveraging available resources and expertise for filming, considering equipment options that align with specific requirements (whether through purchase or rental), and contemplating the use of a production company that offers in-house video editing services instead of self-editing. With our San Francisco-based video production company, it is indeed feasible to create a high-quality video while staying within an affordable price range.