San Francisco Social Media Video Production – BLARE Media Video
If you're looking to expand your reach and boost engagement on social media through video production, BLARE Media can help.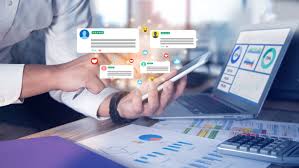 If you're looking to expand your reach and boost engagement on social media through video production, BLARE Media San Francisco production company can be your perfect partner. We are one of the San Francisco top video production companies, and our expertise in producing high-quality video media and production can help your brand stand out from other companies and make a significant impact on potential customers. With the growing trend of video media consumption, optimized social media videos from our team of producers and editors can make your brand stand out from the rest. Our service focuses on crafting a variety of video content, including scripted commercials, corporate profiles, live broadcasts, product demonstrations, and tutorials. Choose BLARE Media to elevate your brand's online presence to new heights through amazing video production!
Interested In Our Social Media Services?
In today's digital landscape, businesses of all sizes need a strong social media presence to succeed. Simply having a profile on every platform isn't enough – your video media needs to be engaging, high-quality, and unique to make an impact. This is where BLARE Media production company can help. With our experience as a production agency and creative video production approach, we'll produce exceptional social media videos that showcase your brand's character and help you connect with your followers on a personal level. From the initial idea to the final product, we'll work closely with you during the video production process to ensure your vision is brought to life. Ready to take your social media strategy to new heights? Let's discuss how our production company can make it happen!
How Does It Work?
If you're having trouble achieving your social media goals, BLARE Media production company is here to lend a hand. Our video production service process is straightforward yet highly effective. We start by analyzing your existing social media strategy and attentively listening to your objectives. With a clear understanding of your goals, we produce a video that is designed to deliver the outcomes you're aiming for. But our support doesn't end after video production. We're committed to empowering you to continue to succeed after working with us, so we offer assistance in creating a social media marketing plan centered around your new video. Let us assist you in elevating your social media presence and taking your brand to the next level.
Why Is It Important?
In the present era, businesses are increasingly focused on engaging with their digital audience and fostering a sense of community. Video content is a key driver of this engagement on social media platforms, making production (especially our video production service) a must for companies looking to grow their digital presence or web site. Videos are more than just visual aids; they have the ability to stir emotions, convey stories, and establish a personal bond with viewers. It is no surprise that video content generates 1200% more engagement than photos, underscoring its significance in any social media strategy. Beyond standing out in the crowded digital space, video content builds trust and loyalty among consumers. If you want to take your social media game to the next level, investing in video content is a smart decision – and BLARE Media production company is here with top San Francisco video media production services. Get started with your production today by contacting us about our production services. Trust BLARE Media video production company to take care of your needs.
Get in contact with us
If you're seeking to enhance your business's social media presence through visually impressive video content, BLARE Media is the San Francisco production company to contact. Whether you're producing promotional videos or showcasing your products or services, our skilled videographers can bring your digital media and video marketing ideas to life. With over 18 years of video production experience and a keen sense of creativity, we understand the significance of telling your story in a way that captivates your audience. Our production company is committed to providing video content that distinguishes your business from other companies. So don't hesitate, contact us today and embark on your video content journey with our video media production services.
We are ready to bring your stories to life
In the current digital era, social media videos have become an essential tool for businesses to connect with their clients. Every business has a unique story to share, and we can assist you in bringing that story to life through engaging videos. Our team of video production and media professionals will collaborate with you to comprehend your brand's identity, objectives, and target audience, in order to create captivating videos that not only engage your audience but also convey your message effectively on your social networks. Our San Francisco video production group provides the best video production service for social media in San Francisco. Whether it's highlighting your products or services in commercial-style media, introducing your team to your clients, or simply narrating your San Francisco brand's history, we have got you covered. Allow BLARE Media San Francisco to help you take your business to new heights by leveraging the power of social media videos.
BLARE Media is a highly creative video production company in the San Francisco Bay Area that puts clients first and specializes in producing top-notch social media and corporate videos. With a team of talented professionals and the latest video camera and equipment technology in the area, our company is able to create exceptional video content that meets and exceeds the expectations of our clients. BLARE Media understands that corporate video is a powerful video tool for brand awareness, communication, and engagement, and we go above and beyond to ensure that videos for all our clients are of the highest production quality. Whether it's a promotional video, a training video, or a corporate event video, BLARE Media film production company has the expertise and creativity for production of a video that tells the story of your business through in a way that captivates the clients of your company.
About BLARE Media
BLARE Media is a prominent video production company in San Francisco that specializes in our high-quality social media video production service. With years of experience and a talented team of professionals, BLARE Media has earned a reputation as one of the most reliable and innovative production companies in San Francisco. The professional social media video production services at our Bay Area video production company are tailored to meet the specific needs of each client, from ideation to final delivery. Whether it's a short promotional clip for your company or a longer-form branded video production for your audience to view on YouTube, BLARE Media has the expertise to bring your vision to life and engage your target audience through powerful video production.
We value the client above anything else. We do all in our power to make the full creative vision of the client into reality. Check out this page to read full reviews and client testimonials of our company. You can also view full reviews on our Google page. Our company has worked with numerous brands to make their marketing goals into reality through social media and commercial videos. Check out our portfolio for some of the brands our company has worked with.
BLARE Media Bay Area video production company is different than traditional production companies. Our company walks you through the complete video production process, but we don't leave you when video production is over. While many production companies leave you to figure out how to integrate your video production into your marketing plan, BLARE Media understands that marketing strategy is just as important as video production. If you need help with your marketing, we will be happy to help you make a plan to use your video to drive the results you're looking for. We can consider this before video production, allowing us to fine-tune your video for the type of marketing campaign it will be used for. We can also revisit the plan after video production, making sure that you feel confident and ready to share your video with the world.
Looking for video production in San Francisco, California or the greater Bay Area? Get top-tier video production services at BLARE Media, the Bay Area and San Francisco's number one video production and video marketing resource. Contact us today to schedule a video production consultation call for absolutely free. We'll be happy to answer your questions about our social media or corporate production services or video production for your business in general.