About
My name is Ryan Rakes and I'm an LA/NYC Based Freelance Video Editor, VFX/MGFX Artist and VFX Supervisor currently available for bookings. My reels, contact information, example edits and LinkedIn are all linked below for your reference.
I graduated from School of Visual Arts in NYC with a Bachelor's degree in Computer Arts and I have over eight years of professional experience working in film, TV and commercials for brands such as Nike, Petco, Barkbox and Tory Burch. I am fluent with Adobe Premiere, Avid, After Effects, Nuke, ProTools and more and I also have several years of experience with project management and pre-production including storyboarding, shot listing and script writing. I also have experience with directing, operating cameras, setting up studio lighting and VFX supervising. Additionally, I'm also skilled with color grading raw footage, working with audio both within video editing softwares and through ProTools/Audition, very knowledgeable with video and audio files and I'm also familiar with working with frame.io.
My latest work, including my editing reel and several examples of finished pieces, can be viewed at my website at www.ryanrakes.com, along with my IMDB. My LinkedIn can be found at www.linkedin.com/in/ryanrakes.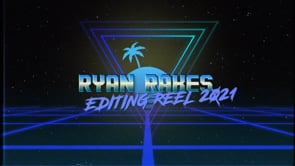 This is a sizzle reel of some of the recent non-NDA work that I could compile together. Some of this… View the Video
Roles
Primary Roles
Secondary Roles
There are no referrals for this profile at this time.