About
Director, DOP & Editor – Dean Singleton:
Dean is a multi-award winning director, cinematographer & lead editor. With over 12 years of production experience in both documentary & commercial genres; Deans ability to capture vivid images, anticipate action, provide insightful direction & adapt to new shooting environments has proven constant.
Having served a multitude of brands, channels, agencies, marketing teams & clientele – his resourcefulness & capability to oversee/ collaborate with a wide range of creatives ensures top-tier production value.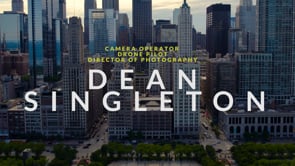 Dean Singleton: Multi-award winning Director, Cinematographer, Editor (camera op, drone pilot & colorist). A collection of imagery shot for entities… View the Video
Roles
Primary Roles
Secondary Roles
There are no referrals for this profile at this time.